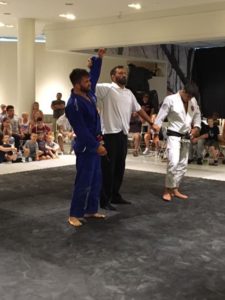 Here is the finals match from the BJJ Kumite 3 in Murfreesboro, Tennessee. I was fortunate enough to come out on top against a tough young competitor using control on the feet and pressure passing.
During the match. The first 5 minutes were no points with the second half of the 10 minute duration being traditional IBJJF points rules.I'm actually bad about not paying attention to points during my matches. I get caught up in the roll and I'm just trying to play jiu jitsu. Which is fun to watch but sometimes I forget that I need to settle down and get my points. In Brazilian Jiu-jitsu competitions, it's not always who's best at BJJ that wins. It's who plays the game the best.
So the rules during the BJJ Kumite worked well with me. And my opponent and I came right out of the gate after each other. During the match my goal was just to push the pace and put on a decent show for everyone. The BJJ Kumite was a spectator event after all. I never want to be a boring competitor. That's worse than losing to me!
I also put up a post doing a minute by minute type deal for this BJJ competition. You can check it out here. It's a little esoteric but you might find it interesting as it's a clear inside of my head kind of post. I wrote the post as thoughts popped into my head that day.
Here's the blog post.
http://www.chewjitsu.net/bjj-kumite/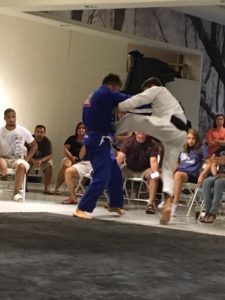 Anyways, I hope you enjoy the Brazilian Jiu Jitsu match we put on at the BJJ Kumite. If you watch closely you will see plenty of the stuff that I show on the Chewjitsu Youtube channel used in the match.
As always, thanks for watching and all the support!
-Chewy
—————–
Free BJJ Ebook
http://www.Facebook.com/Chewjitsu
http://www.instagram.com/Chewjitsu
http://www.chewjitsu.net/wp-content/uploads/2016/09/IMG_3344.jpg
720
540
Nicholas Albin
http://www.chewjitsu.net/wp-content/uploads/2015/03/ChewJitsu-Logo.png
Nicholas Albin
2016-09-14 16:04:54
2016-09-14 16:04:54
Finals Match From The BJJ Kumite