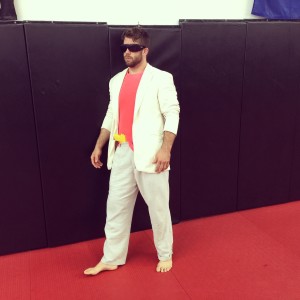 Last night was our annual suit rolling training session at the gym. We do it once a year around Halloween and it's one of the more ridiculous things we take part in at the gym. We train hard so it's a nice silly break from the tough training.
One of the things that came from this year's suit rolling was a BJJ self defense video. Well I guess it may not really be a BJJ self defense video. More like a cheesy 80s self defense video with some sweet miami vice suit style action.
For those that know me, they know I try to offset the hard training with fun and light hearted events.
Anyways, we all got a laugh from it. Check it out and if you like it and get a laugh, share it.
Thanks!
Chewy
http://www.chewjitsu.net/wp-content/uploads/2015/10/miamivicesnip.jpg
594
1276
Nicholas Albin
http://www.chewjitsu.net/wp-content/uploads/2015/03/ChewJitsu-Logo.png
Nicholas Albin
2015-10-28 20:19:49
2015-10-29 22:42:46
BJJ Self Defense Shenanigans (80s Miami Vice Style)